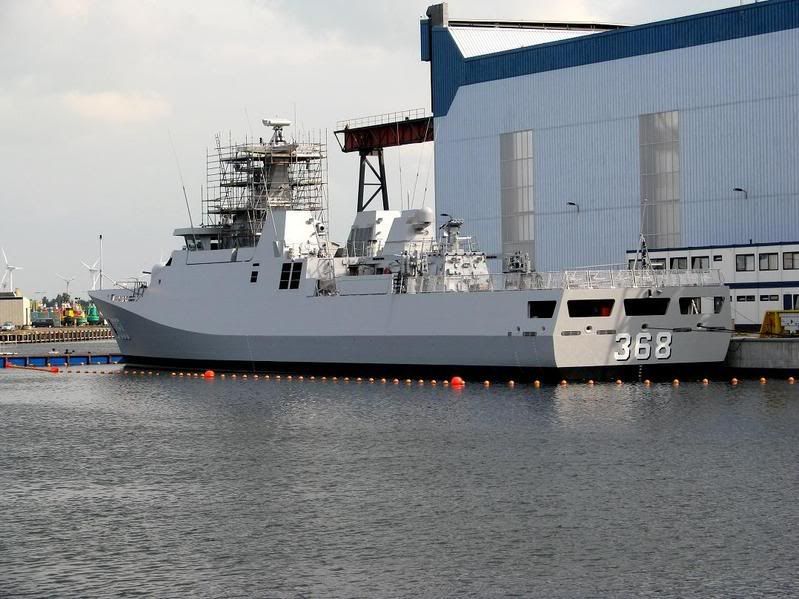 KRI Frans Kaisiepo-368 dijadwalkan tiba di tanah air Maret 2009

Bahas Alih Teknologi Korvet Sigma

Jakarta – Menteri Pertahanan (Menhan) Juwono Sudarsono menerima kunjungan kehormatan Menteri Bidang Perekonomian Kerajaan Belanda HE. Mrs. M.I.A (Maria) Van Der Hoeven dengan didampingi Duta Besar (Dubes) Indonesia untuk Belanda Junus Effendie Habibie, Senin (10/11), di kantor Dephan, Jakarta. Saat menerima tamunya, menhan didampingi Staf Ahli Menhan Bidang Ekonomi DR.IR.Pos M. Hutabarat, M.A., Staf Khusus Menhan Bidang Ekonomi Adnan Ganto dan Karo Humas Setjen Dephan Brigjen TNI S. Hariyanto.

Dalam kesempatan tersebut delegasi Kerajaan Belanda menyampaikan kepada menhan mengenai beberapa program kerja sama dalam bidang industri pertahanan terutama tentang pembangunan atau perbaikan kapal laut yang dijadwalkan akan tiba di Surabaya dalam waktu dekat, sekitar maret 2009. Selain itu juga dibicarakan mengenai program transfer of technology yang sangat membantu industri pertahanan seperti training yang akan diterapkan di PT PAL Surabaya.

Menurut Menteri Perekonomian Belanda yang harus digarisbawahi dan menjadi perhatian adalah mengenai transfer of technology yang dapat menjadi nilai tambah dan sangat bagus bagi perkembangan industri pertahanan di Indonesia di masa yang akan datang. Berkenaan dengan hal tersebut Menteri Perekonomian Belanda menyampaikan kepada menhan bahwa dirinya telah melakukan pertemuan dan berdiskusi dengan Menteri Perdagangan Indonesia (Menperindag) Mari pangestu.


Dalam pertemuannya dengan menperindag, tidak hanya membicarakan masalah perdagangan saja tapi juga mengenai transfer of technology yang akan membangun hubungan yang lebih erat antara Indonesia dan Belanda terutama dalam bisnis kapal laut.

Selain itu juga Menteri Perekonomian Belanda menambahkan bahwa pemerintah kerajaan Belanda akan membantu Indonesia dalam masalah keuangan seperti credit eksport assurance atau jaminan ekspor kredit yang akan dilaksanakan tahun depan.

Menanggapi perihal transfer of technology, menhan menjelaskan tentang National Corvett Program yaitu program pembangunan lebih dari 30 kapal corvet sekelas sigma plus untuk kebutuhan negara-negara besar. Karena keterbatasan anggaran dan aspek demokratis maka tujuan program tersebut akan dilaksanakan dengan tetap menjalin hubungan dengan pemegang tender lainnya seperti dengan negara Korea Selatan, Jerman dan Spanyol.

Selain itu menhan menjelaskan mengenai keamanan di selat Malaka yang menjadi jalur lalu lintas perdagangan yang sangat strategis dan kunci utamanya adalah kerja sama antara Indonesia, Singapura dan Malaysia dalam menjaga kawasan selat Malaka. (ER/HDY)

Sumber : DMC