Pertempuran anti kapal selam

Guna menghadapi pertempuran bawah laut korvet Visby telah dilengkapi perangkat multi-sonar Hydra dari General Dynamics-Kanada, perangkat ini terdiri dari Variabel Depth Sonar (VDS), Towed Array Sonar (TAS) dan Hull Mounted Sonar (HMS).

Sistem pendeteksi bawah air terintegrasi dengan sonar pasif buatan Hydroscience Technologies yang ditarik di belakang kapal (TAS) yang dipertajam dengan sonar variabel berfrekuensi ganda buatan C-Tech CVDS-26. Proses pemasang sonar di lambung kapal dan integrasi kerja dengan sarana pemburu ranjau (ROV) dilakukan oleh perusahaan yang sama.

Ketiganya berfungsi untuk mengendus target bawah air yang diintegrasikan dengan peluncur roket granat (mortir) bawah air kaliber 127 mm dan torpedo anti kapal selam. Visby mempunyai dua tabung torpedo diameter 400 mm disisi kiri dan kanan kapal dari berpandu homing aktif jenis torpedo type-45 buatan Saab Underwater Systems.

Sensor Radar

Perangkat radar utama di Visby mengadopsi radar multi peran tiga-dimensi jenis Sea Giraffe AMB 3D C-band buatan Saab Microwave Systems. Radar teknologi terbaru ini mampu memberikan respon cepat ke system persenjataan berkat teknologi 3D Agile Multi-beam saat merespon target berjarak 20 km.

Radar Sea Giraffe-3D memberikan kemampuan lebih unggul dibandingkan radar 3-D lainnya, benyaknya jumlah objek di angkasa dapat terpantau di setiap sensor antenna Visby. Pola pencarian pun dapat dipilih di setiap level ketinggian dalam cakupan sudut dari 0° hingga lebih dari 70°.

Pengukuran sasaran dilakukan secara parallel saat menerima sinyal radar menggunakan amplitudo monopulse, alat ini menyediakan kemampuan untuk mengukur koordinat target mulai dari arah, ketinggian, kecepatan secara akurat.

Teknik menjangkau cakupan ketinggian juga dilakukan secara akurat dengan mengkompensasi data-data secara elektronik ke pengendali kapal untuk melakukan manuver yang sesuai. Dengan adanya teknologi ini Sea Giraffe AMB tidak memerlukan platform untuk menstabilkan posisi kapal secara mekanis.




Untuk mendeteksi target permukaan proses pengamatan radar dan optimalisasi data sasaran ditampilkan dalam layar beresolusi tinggi, proses ini terhubung dengan kendali senjata anti-kapal yang secara otomatis siap tembak jika sudah masuk jangkauannya.

Roket, mortir hingga amunisi senjata akan meloading otomatis jika mendeteksi objek diseputar kapal dan mampu menembak secara akurat sesuai kebutuhan senjata yang ada. Misalkan sasaran masuk dalam jangkauan tembak meriam, maka secara otomatis kanon akan terbuka dan melakukan penembakan, Hal ini memungkinkan kapal untuk melakukan manuver menghindar dan melawan menggunakan senjata pendukung atau mentransfer posisi penembakan sasaran ke unit lain.

Tersedia pula perangkat tambahan lainnya berupa alat pengidentifikasi musuh (IFF) dan ECCM (electronic counter countermeasures) capabilities include ultra-low antenna sidelobes and both frequency and code agility. The antenna has a rotation rate of 30rpm for surveillance and 60rpm for air defence.

ECCM (counter elektronik penanggulangan) dimana didalamnya terdapat sidelobes ultra-low antena berfrekuensi ganda. Antena berputar dengan kecepatan 30 rpm untuk mode pengintaian dan 60 rpm untuk mode pertahanan udara. Hal ini memberikan waktu reaksi lebih cepat dan tepat dalam mengaktifkan persenjataan untuk merespon ancaman. Interval dari saat target terdeteksi hingga gelaran senjata siap tembak hanya butuh waktu beberapa detik,

Ada pula radar I-band untuk mencari sasaran permukaan dan radar I / J-band sebagai pengendali tembakan.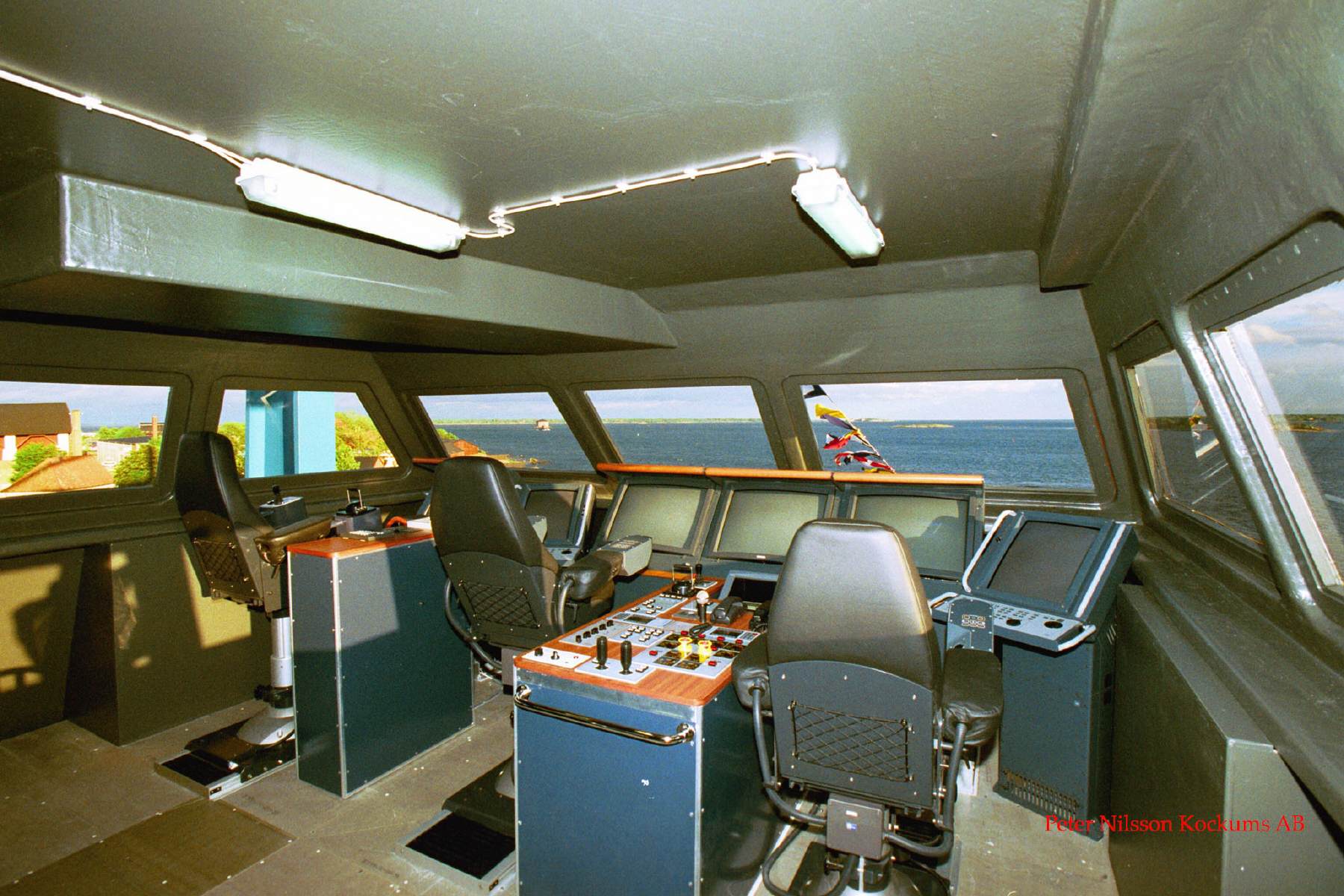 Perangkat Perang Elektronik

Untuk perangkat perang elektronik Visby dibekali radar pengintai taktis CS-3701 dari EDO Reconnaissance & Surveillance yang menyediakan fungsi electronic support measures (ESM) dan radar warning receiver (RWR).

Selain itu Visby Class juga telah dilengkapi dengan MASS (multi-ammuntion softkill) yakni pengumpan berupa munisi dari Rheinmetall Waffe Munition Jerman.

MASSA dapat meluncurkan sampai dengan 32 proyektil omni-spectral dalam waktu-sigkat untuk meng-counter rudal anti-kapal yang diluncurkan musuh. Sistem ini meliputi radar, inframerah, elektro-optik, laser dan ultraviolet wavebands.

Sistem Pendorong Kapal


Sistem penggerak Visby memakai kombinasi antara tenaga diesel dan turbin gas (CODAG), untuk melaju dikecepatan tinggi Visby dibekali empat mesin gas turbin berdaya dorong 4000 kw/ mesin, yang mampu melesatkan kapal hingga kecepatan diatas 35 knot. Ke-empat mesin turbin seri TF50 A ini dipasok oleh Honeywell Turbine, Amerika.

Sedangkan untuk kecepatan rendah Visby dilengkapi dengan dua mesin diesel type MTU 16V 2000 N90 yang menghasilkan tenaga hingga 1300 kw/ mesin, kedua jenis diatur oleh perangkat gearbox untuk mengendalikan semburan udara pada Kamewa ganda.

Selain itu terdapat pula tiga buah generator berdaya masing-masing 270 kw untuk mensuplai tenaga elektrik kapal.

Kemampuannya melaju dengan kecepatan tinggi dipermukaan air diimbangi dengan struktur desain kapal yang optimal membuat manuverabilitasnya lebih tinggi dibanding kapal-kapal cepat dikelasnya.

Untuk durasi waktu berlayar ekonomis, batas kecepatan maksimum yang bisa dicapai ada dikisaran 15 kt, sedangkan untuk pertempuran maksimum kecepatan yang mampu digenjot hingga 35 kt untuk durasi terbatas. Saat bermanuver dipelabuhan dengan pendalian terbatas, Visby dibantu oleh rudder dan bowthruster yang berfungsi menggerakkan posisi kapal kesamping kiri dan kanan. (Dsofandi)